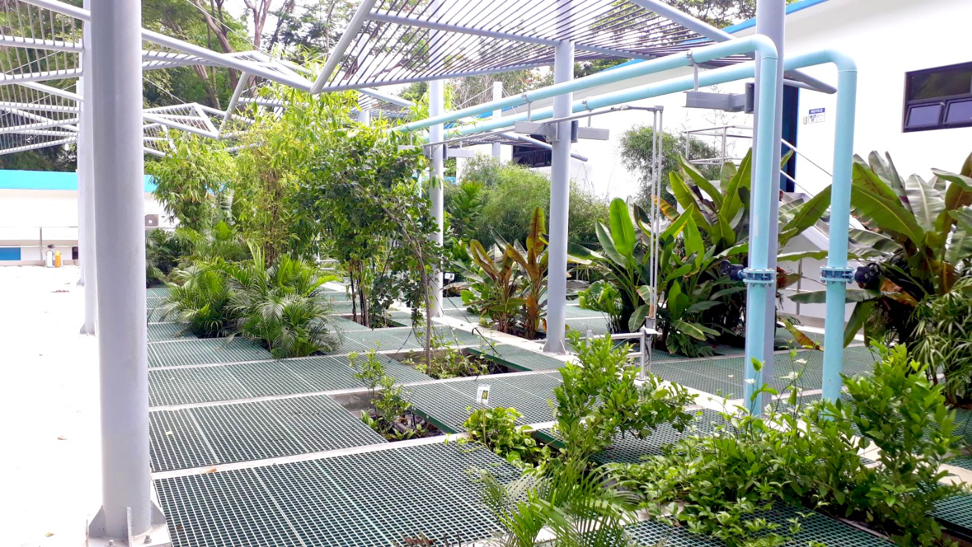 Laguna Technopark, a light industrial park near Laguna lake, 18.5 miles south of Metro Manila, upgraded to the Organica Water solution in November 2017. The 6,500 m3/d facility is the first Organica-powered for the Philippines, a country with over 100 million people but less than 30% of wastewater is treated.
The newly integrated WWTP, located directly between an industrial area and a residential area, has been further developed with the up rise of new residential homes. This Organica facility has the capacity to treat wastewater equivalent to 15,000 households caters to wastewater from industries and sewage and septage from residences from subdivisions in the City of Binan in Laguna province. The beautiful, odor-free, botanical-garden like treatment plant has been proudly acting as a wastewater showcase for the country, highlighting the economic and societal benefits of employing Organica Water's unique approach to wastewater management.
The Organica-powered Food Chain Reactor (FCR) solution placed in Laguna is comprised of biological reactors, arranged in a cascade configuration. The Organica FCR is a complete wastewater treatment solution including solids removal, biological treatment/nutrient removal and phase separation.
The cascades within the FCR consist of up to 8 separate reactors, each utilizing both natural plants and specially made Biomodules, to allow growth of robust and healthy biomass that effectively gobbles up the incoming load in the effluent. The plants, via their roots, provide an immense surface area and complete the food chain that exists in the biological reactors. Thereby, enabling a diverse ecology and resilient bio-film that is able to handle a higher amount of fluctuations in influent quality and quantity compared to conventional suspended or attached growth systems.

After the facility was completed, Attila Bodnár, EVP and Co-Founder of Organica, attended the ceremonial opening of the facility along with the Governor of Laguna Province, Mayor and Deputy Mayor of Santa Rosa City, and various other executives from Ayala Group, Manila Water, and the Philippine national government.
"The Laguna facility highlights the economic benefits of "localized" approach Organica employes.  By treating the water in a beatiful garden we drive lower infrastructure costs, increased land value, and enable cost efficient of the treated water."  Bodnar commented. "We are pleased to have done this project for Manila Water and look forward to more projects in the future together as we bring our special brand of environment friendly, sustainable, wastewater treatment solutions to SE Asia."
As the water industry came together to celebrate World Toilet Day on November 19, 2018, Laguna Water joined in the movement of water sustainability by inviting households and industrial parks to join in its desludging or used water siphoning service, as a means to ensure the continued protection of the environment.
According to the World Health Organization, 4.5-billion people worldwide do not have access to safe or well managed sanitation and wastewater services, where toilets are not connected to a sewer or a septic tank. This means that wastes are not treated properly, causing contamination of groundwater and other natural bodies of water.
For the Philippines, there's an influx of improper disposal of untreated used water that has been identified as one of the leading causes of pollution of Laguna Lake. This contamination poses huge health threats to the community. With the use of Organica Water's FCR technology, wastewater management and reuse has become safer for Laguna Lake and the residents that inhabit there.
The Manila Standard featured Laguna in a write up for the occasion.