Microsoft chose Organica as a prime example
Organica has been using powerful Microsoft tools (Azure and Power BI) for optimizing energy usage in wastewater treatment plants. Microsoft judged our high level integration of the tools quite impressive and decided to feature us in a case study. Check out the short video and read more to learn about this exemplary application to maximize advantages.
Ancol Dreamland brings also our dream true!
We are happy to share that Organica signed a new contract for a 4000 m3/day capacity wastewater treatment plant in Taman Impian Ancol, Indonesia, also known as Ancol Dreamland, an integral part of Ancol Bay City, a resort destination located along Jakarta's waterfront.
Organica Facility will be located in one of the zones of the amusement park, called Ecopark Ancol, which offers Education and Adventure theme. The leadership of the Ecopark demonstrated a highly open-minded approach and decided to use our solution not only as a pure wastewater treatment plant, but also to serve EDUTAINMENT (educational+entertainment) purposes. This way the Organica facility will treat wastewater from commercial establishments (hotels, restaurants, theme park) and at the same time educate the visitors about the wonders taking place in our system that is inspired by nature executed by combining various engineering disciplines in perfect harmony. Treated water might be reused at a later date as this establishment utilizes seawater desalination to meet their clean water needs.
This project is set to be a lighthouse reference and a special one for both Organica and The City of Jakarta.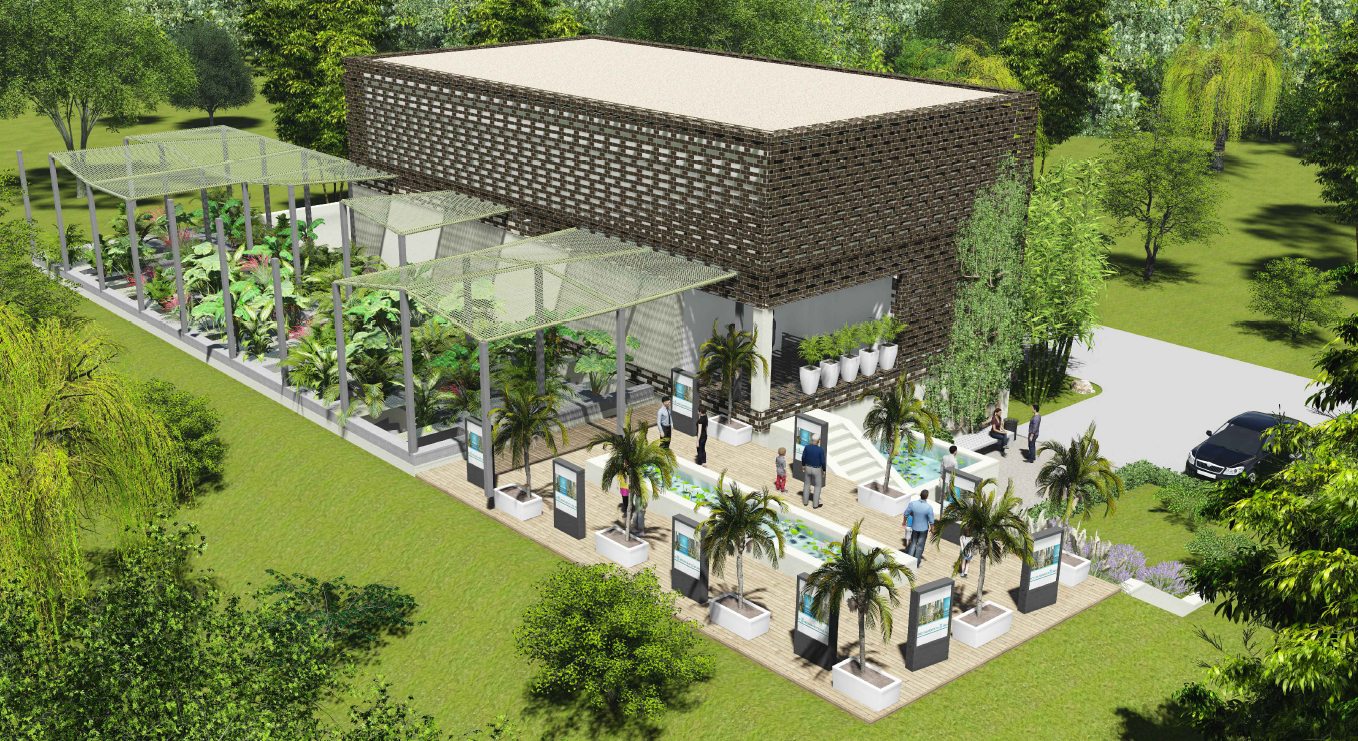 Organica at COP26
Attila Bodnar, Organica Co-founder present at COP26, Water Pavilion, Session 3C: Adaption and Resilience in urban water: Lessons from practice on 11 November at 5.30pm CET.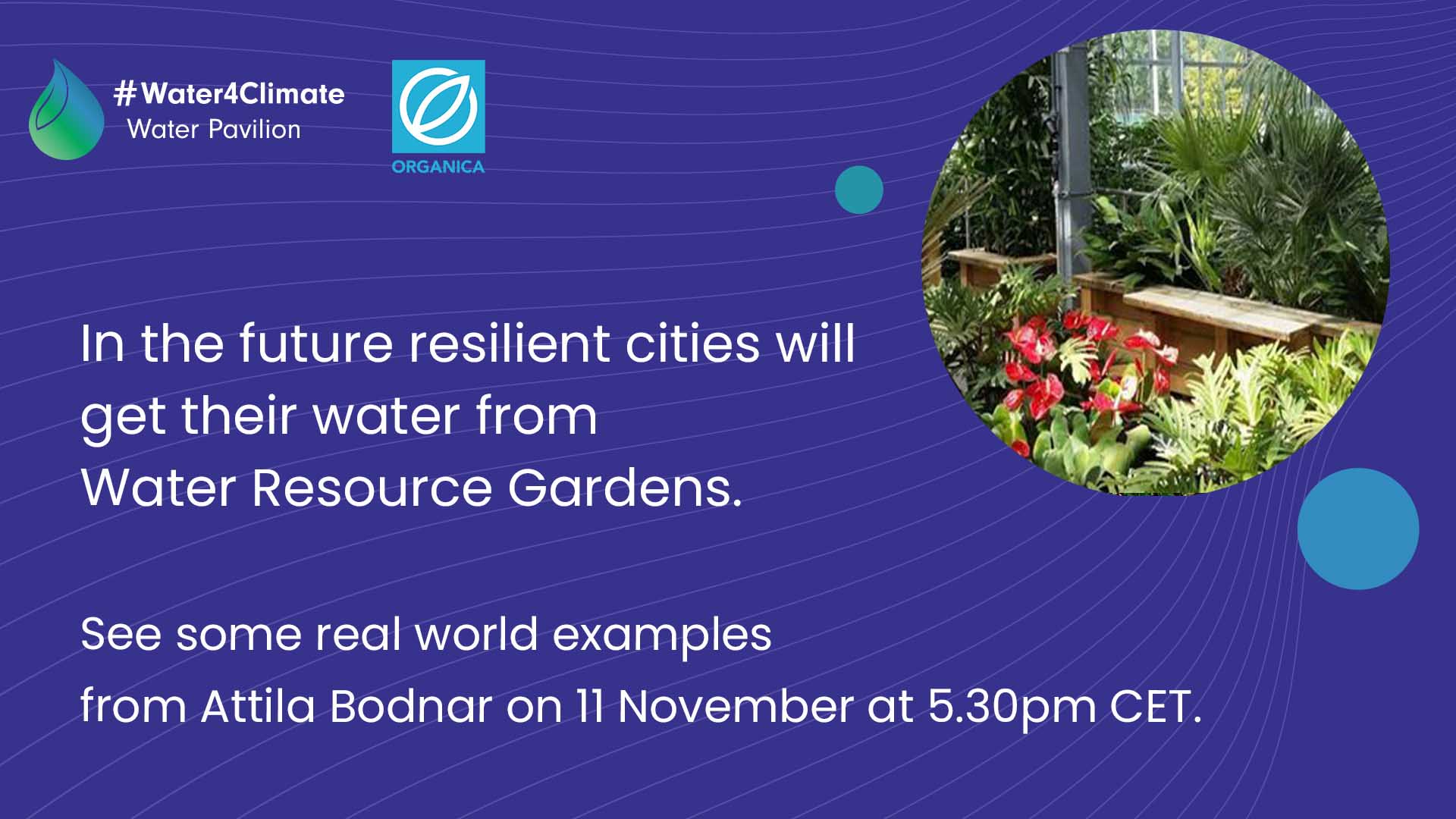 15% DECREASE IN ENERGY CONSUMPTION
In April 2020 Organica has exteded it's O&M and Digital Services to the South Pest Wastewater Treatment Facility in Budapest (80,000m3/day).
A recent study claims that our Aeration Upgrade Service resulted not only in properly aerated reactors but in 15% lower energy consumption. As a result of the success of the project and the satisfaction of the client (FCSM) Organica continues analyzing, finetuning services and planning the upgrade of the remaining lines.
n
This will contribute to an even more optimized operation with significant cost savings. None of this would have been possible without the continuous support and open-minded cooperation of the leadership of Budapest Sewage Works (FCSM).
Attila Bodnar's interview with the President of Hungary
The President of Hungary, Mr. Janos Ader invited Attila Bodnar, our Co-Founder, for a 30 min discussion about Organica's role in addressing water scarcity issues around the world.
6th ORGANICA WWTP TO CLEAN RIVER GANGA
Cleaning out River Ganga is a challenge Organica is strongly committed to. Therefore, we are truly honored to get the chance to build the 6th Organica facility in the framework of the National Mission for Clean Ganga (NMCG) that will meet the strict NGT effluent norms and also includes 15 years of Operation and Maintenance.
This World Bank financed project (45000 m3/day capacity with Power generation) will be realized in Bhagalpur based on a Concession Agreement between NMCG, Bihar Urban Infrastructure Development Corporation Ltd (BUIDCO) and a JV of Adani Enterprises with Organica.
SMACK IN THE MIDDLE OF JAKARTA!
We are so excited to announce our next project in Jakarta, Indonesia, with a signature address being located right next to the Waldorf Astoria Hotel that is under construction. This 2,000 cubic meters per day Organica Water Reclamation Facility will treat and recycle wastewater from this prestigious commercial and residential mixed use development, Thamrin Nine, located in the center of the city – Thamrin Central Business District will be opened in 2022.
Thamrin Nine WRF is an excellent example how wastewater treatment can be transformed into Water Resource Gardens and a testimonial that wastewater treatment plants can be much more than an unpleasant necessity; as an integrated, botanical-garden like element of the cities serving sustainable needs of dense urban areas.
Organica continues to strengthen its local presence in Indonesia!
Organica Water has signed its latest contract to implement the Food Chain Reactor (FCR) solution through its local partner, PJLEnviro, for a greenfield wastewater treatment plant for Kendal Industrial Park in the Central Java Province of Indonesia. The first phase of 4,000 m3/day (from an ultimate capacity of 18,000 m3/day) is planned to be commissioned by Q4 2022. With this new contract, Organica has strengthened its position as a market leader in the Industrial Park segment in Indonesia. This project confirms and highlights again the key differentiators of the FCR solution: energy & space efficiency, and its odor-free botanical garden like appearance.
Murray & Roberts Water awarded a contract to deploy an Organica Water Resource Recovery Facility at the heart of Cape Town
We are excited to announce our recently signed project in the heart of Cape Town, South Africa, at the prestigious V&A Waterfront, one of the main tourist spots in the city. The Organica Water Resource Recovery Facility will contribute to the sustainability and water conservation of one of the most waterstressed cities in the world, providing a new "localized" reclaimed water stream, while preserving other existing and scarce water sources.
Attila Bodnar at Cleantech for Europe
Co-Founder Attila Bodnar took part in the Cleantech for Europe initiative from Cleantech Group and Breakthrough Energy.
The report aims to facilitate scaling EU cleantech and addresses the broader cleantech industry.
Organica continues its global expansion with 2 new projects in Croatia
Organica, through its local partner in the region, Hidroinzeniring, will be implementing the Food Chain Reactor (FCR) solution in the new Umag and Novigrad WWTPs, with a combined capacity of 18,500 m3/d.
Winning these EU-funded public tenders is a major milestone for Organica, confirming once again the competitiveness and added value of Organica´s energy and space efficient, odor-free botanical garden wastewater treatment solution.
New win in Indonesia: Pekanbaru project
Indonesia's strong commitment for a greener and more sustainable future is reflected in choosing Organica's Solution for a new wastewater treatment plant. Organica technology is chosen for the first ever centralized municipal wastewater treatment facility that will be built in the city of Pekanbaru located in Riau province of Sumatra Island. The WWTP along with the piping network plant will be financed by ADB under the Metropolitan Sanitation Management Investment Project (MSMIP) program for Indonesia.
Organica inducted into the Cleantech Hall of Fame (2020)
This year Organica was selected into the Cleantech 100 list again. We have been selected into this list every year in the last 7 years and this year Organica was inducted into the Cleantech Hall of Fame as well. The Global Cleantech 100 Hall of Fame is reserved for companies whose sustained excellence results in them appearing on the list an impressive seven times. The CleanTech Group is the oldest, most prestigious investor forum in the CleanTech industry. It represents more than $3 trillion in assets, and the Group's global member network includes more than 8,000 investors, 6,000 companies, and 3,500 professional services organizations.
The "Company of the Year" award (Organica won this in 2013) is one of the most coveted recognition a company can get in the CleanTech industry. The "bottom up" voting process in which the 8000 investors are asked to nominate those companies which in their opinion will shape the future of their industries is secretive; the companies nominated are not even aware of their nominations. Organica's induction into the Cleantech Hall of Fame acknowledges the company's impact on the entire industry. It is a worldwide recognition that the future of wastewater treatment is defined largely by Organica's approach.
Organica's plant specialist presents at the Beyond 2020 – World Sustainable Built Environment conference
Laszlo Tutor, Horticultural & Innovation Specialist discussed how Organica designs wastewater treatment in urban centers.
Global Water Intelligence Magazine's interview with Attila Bodnar, Co-Founder of Organica
Global Water Intelligence Magazine with our Co-Founder, Attila Bodnar about the most exciting developments in our industry. # wastewater treatment.
Organica wins Visionary Innovation Leadership Award from Frost & Sullivan
According to Frost & Sullivan, a highly respected global consultancy , a Visionary Innovation Leadership position enables a market participant to deliver highly competitive products and solutions that transform the way individuals and businesses perform their daily activities. Such products and solutions set new, long-lasting trends in how technologies are deployed and consumed by businesses and end users.
Most important, they deliver unique and differentiated benefits that can greatly improve business performance as well as individuals' work and personal lives. These improvements are measured by customer demand, brand strength, and competitive positioning. "With its innovative approach towards designing and implementing wastewater treatment plants and its passionate pursuit of aesthetics and sustainability, Organica earns Frost & Sullivan's 2019 Visionary Innovation Leadership Award in the global decentralized wastewater treatment market".
Organica invited to speak at the São Paulo State Federation of Industries
2019 FIESP – Federação das Indústrias do Estado de São Paulo – Senior Business Development Manager Peter Varga was invited to speak at The São Paulo State Federation of Industries. This Federation hosted the Hungarian-Brazilian business forum where Hungary's Foreign Minister Peter Szijjarto launched the event with a speech that showcased Hungary's water innovation capabilities. Organica was one of three companies here selected to make a brief presentation about what we do and who we are, and this was very-well received by the audience.
Organica invited to participate in a panel at the Budapest Water Summit 2019
Organica EVP Attila Bodnar was invited to speak on a panel with the subject of urban water sustainability. The Budapest Water Summit was organized by the Government of Hungary for the third time on 15-17 October 2019 with the motto "Preventing Water Crises". The Summit was opened by H.E. Mr János Áder, President of the Republic of Hungary. The Ministry of Foreign Affairs and Trade of Hungary was responsible for the full preparation and conduct of the Summit and all related events.
Organica showcased by the Dubai Municipality at 2019 WETEX
The leading global Water, Energy, Technology and Environment Exhibition, organized by DEWA, since 1999, under the guidance of HH Sheikh Mohammed bin Rashid Al Maktoum, Vice President and Prime Minister of the United Arab Emirates and Ruler of Dubai, and under the Patronage of HH Sheikh Hamdan bin Rashid Al Maktoum, Deputy Ruler of Dubai, Minister of Finance of the UAE and President of DEWA, in line with Dubai's vision to build a sustainable future. Dubai Municipality (DM) showcased at their own booth (one of the largest and most popular booths in WETEX) the Organica Technology.
Organica invited to present at the 2019 ALADYR Conference (Latin America Reuse and Desal Association)
Organica was invited to participate in this important conference. The Ambassador of Hungary in Argentina, Dr. Csaba Gelényi, joined Fluence-Organica for the key meetings to follow up on previous discussions with AYSA, ABSA and the Secretary of Water Resources and their commitments to develop the first Organica demo site in the city of Buenos Aires.
Organica invited to participate in a panel at the Global Water Summit 2019
Organica participated in a 90-minute session under the title "How to halve the cost of wastewater treatment." The session event was hosted by Isle, an independent technology and innovation consultancy. Their team consists of highly skilled engineers and scientists with extensive and diverse consulting expertise. The session was broken into three parts (collection, treatment and bioresources) and involved the showcasing of 20+ innovative and ground-breaking technologies. Also, in attendance was a panel of international utility executives on the stage who served commentary on the technologies. They selected 3 technologies for a more detailed discussion, and Organica was one of them..
Organica invited to present at the 2019 Isle Utilities, Urban Resilience TAG 3 Event
Isle is an independent technology and innovation consultancy that brings together technical and commercial specialists to facilitate relationships. Organica was invited to Milan, Italy to attend Isle Utilities' Urban Resilience TAG 3 Event where we presented our solutions to utilities in Europe and other stakeholders in Italy.
Organica presents at the 2019 IWA IADB Conference – Guayaquil, Ecuador
Organica was invited to present as part of the Isle Utilities Innovation forum in Latin America. This international platform is an event that is part of the IWA Sustainability in the water sector Specialist Group to discuss advances in sustainable use of water, cities, industry, and agriculture. The purpose of this conference is to move IWA, in collaboration with other stakeholders, further down the path of implementing sustainable use of water in three specific venues—industry, agriculture, and cities.
Organica presents at 2018 ALADYR Congress – Chile
(Desalination and Water Reuse Association of Latin America). Organica presented during the main conference sessions on day one. The presentation, focused on how to enhance land value through "localization" of WWTPs, had a very large level of attendance and we even had to arrange a second session later in the day for some people that could not attend the first one.
Organica invited to participate in a panel at the 2018 WEFTEC Conference
(largest water industry conference in the US) It was the Current Innovators Forum panel. Organica CEO Ari Raivetz participated on the panel with a number of key industry leaders (http://www.currentwater.org/blog/current-2018-innovators-forum) to discuss Digital Transformation
Organica presents at the WEFTEC Knowledge Development Forum (2018. Oct.)
Organica's Associate Director of Process Engineering and Modeling presented on control strategies at the during the first day of the event.
Organica presents at the IWA Word Water Congress and Exhibition (2018 Sept., Tokyo)
Organica co-presented with Melbourne Water and Downer Utilities a study on Organica's FCR operations
Organica wins Environment and Climate Change Award in South Africa (2018)
by The Institute of Municipal Engineering of Southern Africa (IMESA) and the Consulting Engineers of South Africa (CESA).
The Institute of Municipal Engineering of Southern Africa (IMESA) is a country wide plaform of municipal engineers and local government municipalities. Together with the Consulting Engineers of South Africa they represent the entire professional landscape of the country. The IMESA Awards recognize outstanding achievements in municipal infrastructures. The Organica Wastewater Resource Reclamation Pilot Facility is have been awarded in the Environment and Climate Change category. The facility is received this award because of its outstanding demonstration in civil engineering and its showcasing of ways in which engineering enhances the lives of local communities, as well as architectural achievements through innovation, design and construction.
Organica Water Resource Reclamation Demonstration Plant Places 2nd for Environment and Climate IMESA Award
Organica wins Paulson Prize for Sustainable Cities-Honorable Mention (保尔森可持续发展城市奖荣誉提名)
by Paulson Prize for Sustainable Cities
The Prize is awarded annually to a project in China that represents a best practice in sustainable urbanization and helps advance China's transition to a more sustainable economy. The Paulson Prize for Sustainable Cities, which was launched in 2013 is co-hosted by the Tsinghua University. The Wusong project in Shanghai is recognized as successfully addressing the toughest problems faced by the big cities in Asia.
Organica wins Corporate Growth Award (2018)
by The Association for Corporate Growth – New Jersey
The award honors companies that employ innovative strategies, nurture a culture that encourages continuous excellence, and demonstrate sustained growth as a result of their efforts.
https://www.organicawater.com/association-corporate-growth-2018-ari-raivetz-interview/.
Organica wins Best Presentation/Paper and Best Innovation prize at the ALADYR conference (2018)
by the Technical Committee of ALADYR Conference – Best Presentation/Paper and Best Innovation
Organica's presentation at the Aladyr conference on "Water Reuse Gardens" was unanimously awarded by the Technical Committee of the conference as Best Presentation/Paper and Best Innovation. ALADYR's (Latin American Association of Desalination and Water Reuse) purpose is to promote, protect and develop technologies and projects in desalination and water treatment, water reuse and low consumption standards for sustainability and environmental respect to deliver a better water future for Latin America and the rest of the world.
Organica CEO presents at the BAPPENAS/Jakarta Transversal Waterways Seminar (2018 Aug.)
Organica CEO presented to the Ministry of Planning & Development Agency for the NCICD (National Capital Integrated Coastal Development) projects to discuss how Organica can help with this issue. The attendees included various leading academics from all over Indonesia, key stakeholders in the Central and City Government, and the meeting was chaired by the Director of Water and Irrigation of Bappenas.
2018. July. Organica CEO presented to MDEC (Malaysia Digital Economy Corporation), who are the lead agency in driving the digital economy in Malaysia. They are the key driver for digital initiatives and communicate across the ministries for digital technology adoption. The presentation was the first of its kind for them in the water sector and they were keen to engage necessary stakeholders on their upcoming discussions to deliberate their digital initiatives.
Organica presents on a panel at the Singapore International Water Week (2018 July)
The most attended event in the water industry across Asia. Organica COO Akhil Barar represented Organica on the panel which spoke about the challenges of growing/doing business in various geographies across the world. Later that same day, Akhil was invited to attend Aqua Conversations which was chaired by the Chairman of the Urban Development Ministry of Singapore and a senior adviser to the Prime Minister of Singapore
Organica receives China Water Industry Starlight Award 2017 (2017 水业星光奖)
By China Water Association
Awarded during the Qingdao International Water conference, it recognized Organica as one of the most advanced water technologies of the past year in China.
Organica receives Best Performer in Global Expansion award (2017)
Idinvest International Award
Idinvest is a US 7 bn leading European investment fund. Its investees include more than 200 SMEs which are primarily based in Europe, and most of these companies are trying to expand their operations beyond Europe. This year Idinvest decided to establish an award to recognize the best performers in terms of their global expansion. This award is a recognition of Organica's track record in expanding its operations beyond the initial market and its ability to firmly establish itselfs in new markets around the globe.
Organica receives Best Practices Award for Global Biological Wastewater Treatment (2017)
by Frost and Sullivan
Frost & Sullivan is a world renown business consulting firm involved in market research and analysis, across multiple industries. Its global team of analysts and consultants continuously research a wide range of markets across multiple sectors and geographies. As part of this ongoing research, they identify companies that consistently invest in new technologies, allowing them to carve out a unique and defensible position within their industries. This involves extensive primary and secondary research across the entire value chain of specific products and/or technologies
Organica named Cleantech Connect Most Innovative Company (2016)
by GP Bullhound, selected from over 150 companies by esteemed panel of judges from across the Cleantech Sector
Connect Awards is a leading Cleantech industry event organized by GP Bullhound, a leading technology investment bank. Since its inception in 2008, Connect Awards became the one of the events to watch for recognition of companies for their entrepreneurship in energy and sustainability. The organizers screened 400 companies and shortlisted 20 who were then invited to present to the Judging Panel. The Judges selected one company in seven categories that stand out for the Judges' Awards.
Organica wins The Best Solution Suppliers of the Year Award (年度优秀解决方案提供商)
The award was given by Huicong.com, the biggest online platform of B-B business in China. Organica received the award for being recognized as one of the most promising wwtp technology (2016).
Organica named Top Ten Global Innovative Company by Lux Research (2015)
By Lux Reserach which is a well known global independent research and advisory firm, providing strategic advice and ongoing intelligence on emerging technologies.
In searching for the most innovative companies globally Lux Research analysts profiled 1,189 companies across 20 different emerging technologies and selected the 10 most innovative. Organica was deemed to be one of the 10, determining the future of wastewater treatment globally.
Organica named Best Overall Innovation Winner (2013)
by CIWEM West Midlands Institute of Water, Innovations Showcase, United Kingdom CIWEM represents and supports a community of thousands of members and organisations in over 89 countries who are dedicated to improving water and environmental management for the benefit of the public.
CIWEM's aim is to work towards a safer,more sustainable world. The organization is a global community of water and environmental professionals dedicated to working for the public benefit. As an independent charity CIWEM champions professional standards, impartiality and the use of scientific evidence in the management of the environment.
Organica wins Global Cleantech "Company of the Year" - Europe & Israel (2013)
by the Cleantech Group
The CleanTech Group is the oldest, most prestigeous investor forum in the CleanTech industry. It represents more than $3 trillion in assets, and the Group's global member network includes more than 8,000 investors, 6,000 companies, and 3,500 professional services organizations. The "Company of the Year" award is one of the most coveted recognition a company can get in the CleanTech industry. The "bottom up" voting process in which the 8000 investors are asked to nominate those companies which in their opinon will shape the future of their industries is secretive, the companies nominated are not even aware of their nominations. There are only three such titles awared each year, one for each of Asia. America, and Europe&Israel. Organica's recognition as the Company of the Year in 2013 by the Cleantech Group put the company instantly on the map of the entire CleanTech investment community. It was a worldwide recognition that the future of wastewater treatment is defined lagely by Organica's approach.
Organica is in Global Cleantech's TOP 100 list (2013, 2014, 2015, 2016, 2017, 2018, 2019)
by the Cleantech Group
In addition to being the Company of the Year in 2013, Organica has been on the CleanTech Group Global TOP 100 list for seven consecutive years