Organica Water opened the very first Water Resource Recovery Facility at the Verulam Wastewater Treatment Plant in Verulam, South Africa. Constructed by Murray and Roberts, the Organica treatment plant serves dual purposes, namely showcasing the Food Chain Reactor (FCR) Solution's advanced capabilities and offloading the overstressed facility already operating on site in Verulam. The combined treatment capacity of both plants can handle the equivalent of 21,000 households in the region, easily dealing with both the increased COD loadings and the neighboring resident's odor concerns.
Ednick Msweli, Head of eThekwini Water and Sanitation commented on the site's capabilities at its opening in Verulam in 2018, stating "it's our aim to provide all citizens within the eThekwini Municipality access to appropriate, acceptable, safe and affordable basic water supply and sanitation services. The Organica demonstration plant allows us to apply innovative and sustainable technology to the water and sanitation services we provide to the people of eThekwini, specifically in the realm of wastewater services."
Initiatives such as free basic water, flow limiters, the use of plastic bodied water meters, polypropylene water piping, ground tanks and semi-pressure water service levels, urine diversion toilets, anaerobic baffled reactors, the use of grey water for urban agriculture, customer services agents, condominial sewerage and a customer water debt repayment policy were first introduced to South Africa at this Organica Water facility.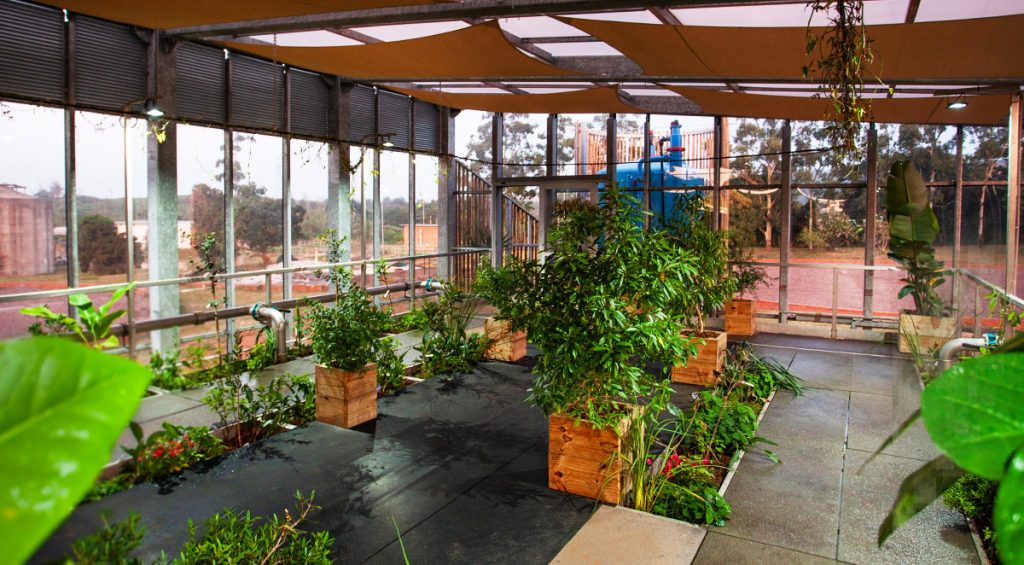 The next phase in local development for this project is upgrading the original facility's entire capacity of 12,000 m3/d to the "Organica Water standard," creating not only an increased amount of fresh water supply for the area but also implementing a highly efficient solution on a large scale to the citizens of the region.
Over the last year, the facility has been operating on the existing Verulam wastewater treatment plant site and continues to pave the way for major, innovative upgraded projects that address current city challenges with the potential to address additional facilities within the municipality that are also reaching their capacity.
The Organica water Verulam facility was proud to have been awarded 2nd place in the 2018 IMESA Environment and Climate Change category. The treatment plant received this award because of its outstanding demonstration in civil engineering and its showcasing of ways in which engineering enhances the lives of local communities, as well as architectural achievements through innovation, design and/or construction.
Oscar Palomino, Senior Proposal Manager at Organica Water commented "an Organica-powered facility is more than just a wastewater treatment plant. It is also a water reclamation garden, educational facility, and symbol of sustainability in the community that enables cost-efficient water reuse and allows for maximized development opportunities – particularly in populated areas where footprint and odor are significant concerns."