Introduction
A Proven Solution with Global Reach
Organica Water is a global provider of innovative solutions for the treatment and recycling of wastewater. Organica's portfolio of solutions for wastewater treatment covers the full value chain, from Design to Facility construction (leveraging the Organica Food Chain Reactor solution) and Operations Management (focused on its Digital Services offering).
recognized across
the world with
25
awards & honorable
mentions
Changing the
industry for
20
years across
the planet
110 reference
facilities on
6
continents and
16 countries
Organica Facilities Around the World
A proven solution adopted by the largest water companies and EPC contractors. Over 2 decades of experience. More than 120 plants operating or under construction worldwide.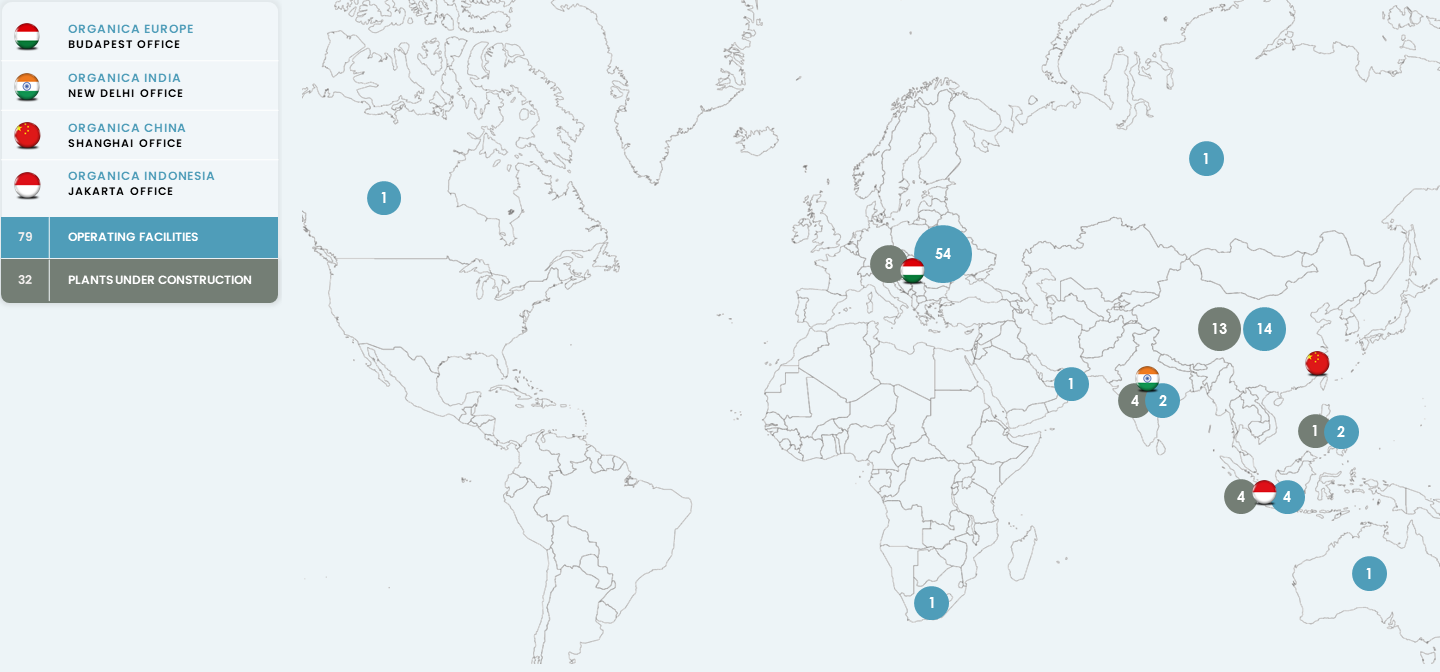 Established in 1998, Organica began as a traditional wastewater design-build company focused exclusively on the Hungarian market. During the first nine years of its life the company built and/or operated nearly 100 municipal, commercial, and industrial wastewater treatment plants (WWTPs), using a variety of different technologies, for clients ranging from large municipalities to multinational companies such as GM, Audi, Alcoa, Shell, Suzuki and GE. During this nine-year span, Organica also invested significantly into R&D, with a goal of developing its own Fixed Film solution for biological wastewater treatment. In 2007 Organica sold its design-build business to focus exclusively on the commercialization of its own biological wastewater treatment solution, the Organica Food Chain Reactor (FCR). In an Organica FCR facility, almost all of the biomass is fixed on the natural (plant) and engineered (patented biofiber media) root structures, resulting in low suspended solids throughout each stage of the treatment process.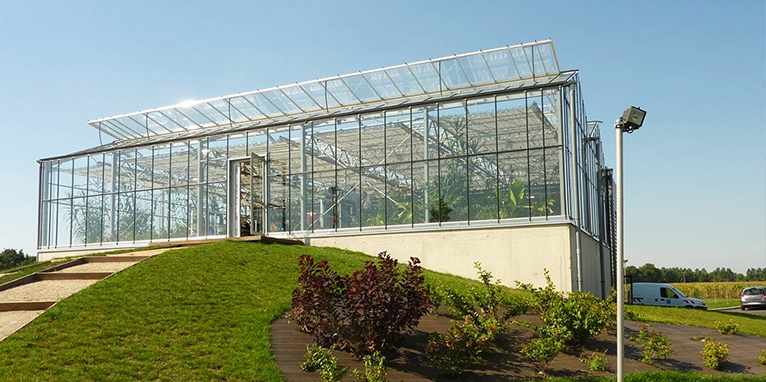 Today, Organica is an international company with offices on six different continents, and the world leader in bringing sustainable wastewater solutions to communities all over the world, with more than 110 facilities in 16 different countries.
For the Wastewater Facility, Organica offers core products and services to enable construction of a complete WWTP based on the Organica Food Chain Reactor (FCR) facility, which is a type of Fixed-Film Activated Sludge system utilizing a fixed-bed biofilm that grows on both natural (plant) and engineered (patented bio-fiber media) root structures, all housed in a compact, odorless, botanical garden-like facility. The result is a wastewater facility which offers a significantly reduced physical footprint, zero "psychological" footprint, and lower operational and infrastructure costs when compared to other activated sludge-based wastewater treatment solutions.
Organica's offering for Operations Management pulls together our expertise in process design, bio-kinetic modelling, and analytical sensors/instruments with Digital Software to help facility owners run their wastewater facility reliably and efficiently, 24/7/365. Our flexible solutions cover the full spectrum from complete Operations and Maintenance to basic Digital Monitoring, allowing clients to start small and progress as they see the savings.
Commissions 50,000 m3d BNR upgrade in Guizhou, China for Beijing Capital. Signs new Market License Partner in Argentina, contract for a 50,000 m3/d facility in Egypt, and its first Organica Villa facility. Completes Series D Financing round, bringing CITIC Capital as a new investor.

Signs 3 new Market License Partners, including Egypt, Netherlands, and South Africa. Contracts 13 new wastewater facilities including our first in Egypt and South Africa, a 30 MLD project in a resort town in China, and innovative design for our first project in South America.

Receives investment from Series C investment from Idinvest Partners, largest PE firm in Europe; Signs first contracts in the United Arab Emirates (3.5 MLD) and the Philippines (10 MLD), along with the 40 MLD Wusong showcase in Shanghai, China.

Signs 13 contracts in Asia, including first contract in Australia, leading industrial park in Indonesia, and bundle of six reuse facilities in Taiyuan, China

Organica signs equipment supply contract for the 45,000 m3/d plant in Indonesia, along with its first upgrade contract in China to improve effluent quality and increase capacity of an existing 30,000 m3/d Activated Sludge Facility. Organica adds WLR China Energy Infrastructure Fund L.P. ("CEIF"), a private equity fund managed by Invesco WLR Private Equity Investment Management Company Ltd. as an investor. Organica is recognized in the Cleantech Group's prestigious Cleantech 100 as the #1 Cleantech Company in Europe/Israel for 2013

Organica signs contract to design 45,000 m3/d plant for a large real estate development company in Indonesia, and adds the International Finance Cooperation (IFC, part of the World Bank Group) as an investor in the company

Organica signs contract for 80,000 m3/d upgrade in Budapest and 9 additional Organica-powered WWTPs in France

Organica opens subsidiary offices in Singapore and India; Commissions two Organica-powered WWTPs in China and one in France

Organica signs first contracts for Organica-powered WWTPs in China and France

Organica receives private investment from US and European based venture capital funds

Organica sells its Wastewater Design/Build business to Veolia, and keeps the intellectual property rights to its proprietary IFAS-type solution for biological wastewater treatment

Organica builds over 75 different municipal, commercial, and industrial wastewater treatment plants and simultaneously invests in R&D

Organica merges with 6 companies to become Körte-Organica, one of Hungary's largest environmental solution providers at the time

Organica receives private investment to help fund the growth of the business

Organica is founded as a Wastewater Design/Build business focused on the Hungarian market
To provide products and services which enable customers all over the world to build and operate space and energy efficient biological wastewater treatment plants that blend harmoniously into urban and residential population centers, ultimately lowering infrastructure costs and facilitating reuse and recycling of treated wastewater.
How We Communicate
Transparency
We believe in radical transparency. Being truly open is empowering. When every Organican has all the information, it limits politics, facilitates collaborative solutions, and creates a true meritocracy. Most of all we believe that being transparent with everyone – from employees, to customers, to partners – gives us the best chance to create value and ultimately to win.
Who We Are
Diversity
More than any other value, this defines us. We believe diversity results in better outcomes and a more complete understanding of the world. We show a mutual respect for other cultures, and innate curiosity to understand those that are not the same.
Taking Responsibility
Accountability
Einstein said "Anyone who has never made a mistake has never tried anything new." Learning is top priority at Organica, so making mistakes is part of our process. However when they do happen, the key is that Organicans find solutions and implement them. We take responsibility. No apologies. No excuses. We take ownership and find the way forward with new ideas and approaches.
Using Scale to Drive Change
Impact
Everyone sees the challenges (water scarcity, poverty, climate change) facing the world today, but Organicans are ready to do something about it. However we don't believe this can be done one WWTP at a time. Our mission is to have the largest and broadest IMPACT on this planet in the short time we have on it. Everything we do as a company, and as individuals, is driven by this goal. For an Organican it is not about winning one project… it is about finding ways to scale so we can change the way people think about wastewater forever.
Together We Stand
Unity
Organica is a workplace built on collaboration and teamwork, with a foundation of mutual respect for each individual personality/culture. We stand together as one team, united in our objectives to maximize our impact on this planet. As passionate individuals we may be successful, but ONLY if we stand together as one team, will we truly reach our common goals.
Achieving Greatness
Transcendence
At Organica, what we are trying to do is not easy. We are working to transform an industry that hasn't changed in over 100 years. It takes a special kind of faith and focus to achieve this greatness. It's that special "something" we look for in every Organican… the dedication to push the industry limits and excel to extraordinary levels. It's only with this approach that Organica can achieve its mission of changing the way the world views wastewater treatment.